Securely Format a Mac Hard Drive
If you want to be absolutely sure your data is wiped clean with virtually no chance of recovery, look no further than Apple's Disk Utility tool. The process is simple.
How to Secure Format a Mac Hard Disk Drive
Launch Disk Utility (located in /Applications/Utilities/)
Select the drive you want securely formatted
Click on the 'Erase' tab and click the "Security Options" button
You'll see four available choices, the second two are what we're looking to use
Select either 7-Pass Erase or 35-Pass Erase, depending on your needs
Click OK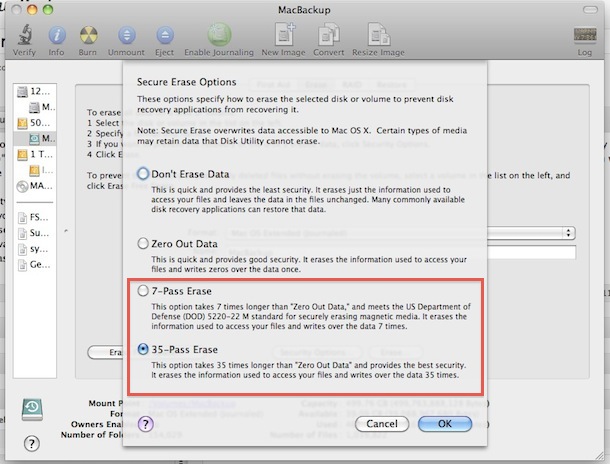 7-Pass Erase is pretty thorough and it meets the US Department of Defense standard for securely erasing media, by erasing the data then writing over it seven times. If that's not secure enough for you, 35-Pass Erase is even more intense and provides exceptional data deletion security by erasing the data then writing over it 35 times, which should make data recovery virtually impossible. Because both 7 and 35 pass are writing over the data repeatedly, the length of time it takes to format the drive in this manner can be considerable (particularly 35 pass since it is doing this 35 times in a row), and it's not unusual on a larger drive for this secure formatting process to take 24 hours!
Of course, if you're not looking to re-use the hard disk, the most secure known method of wiping a drives contents from the face of the earth is to format the drive using an above method and then simply physically destroying it in a thorough manner.
Related articles: