Add a Message to the Login and Lock Screen in Mac OS X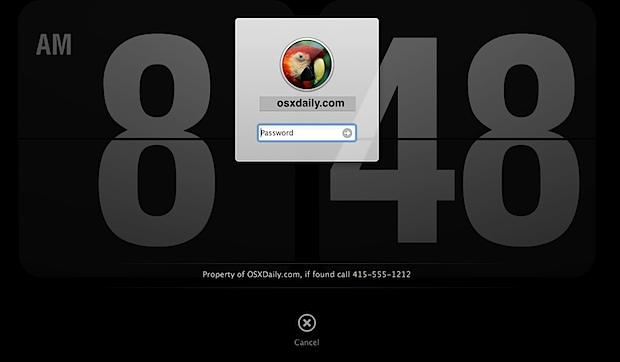 OS X Lion and beyond brings a nice new feature to login and lock screens that allow you to display a message underneath the login panel. This is visible to everyone and it makes for a great place to put either a generic personalization or better yet, a lost & found message.
How to Add a Login & Lock Screen Message to OS X
Note that for the lock screen message to be displayed you also must have the 'Require password' feature turned on in the Security panel, then:
Open up System Preferences and click on the "Security & Privacy" icon
Select the "General" tab and then click the little lock icon in the lower left corner of the window, enter the admin password when asked
Check the button next to "Show a message when the screen is locked" and type your login and lock screen message in the box below
Click the lock icon again to set the changes and close out System Preferences
If you want to confirm the change, activate a screen saver with a sleep corner or lock your Mac screen, just be sure that you require a password or you won't see your message. You can see what this looks like in the screenshot above and the closeup image below:

Having a message on your lock screen is a great loss prevention and general anti-theft measure, since anyone who gets the Mac into their hands later will see the message and if they have a conscience, will hopefully call the number you set on the screen. This could also help if you ever accidentally misplaced a Mac laptop, and is a great addition to setting an "If Found" message as the iPhone lock screen wallpaper which was suggested by Apple a few years ago.
For those wondering, the screenshot background is the Fliqlo flip-clock screen saver, and it works fine in OS X 10.7. This tip works in OS X 10.7 or later and has been confirmed to work with 10.8 Mountain Lion.
Related articles: