Send Any File to an iOS Device from Mac OS X with iMessage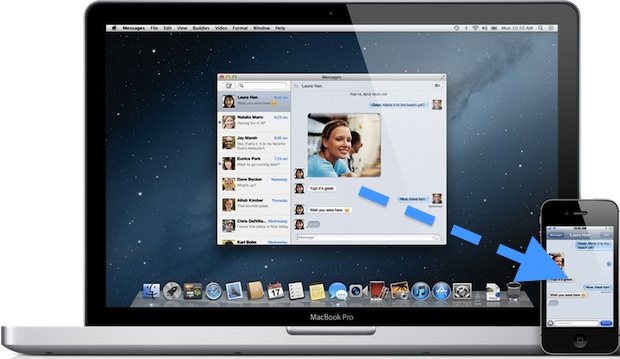 iMessage in iOS and the Messages for Mac beta let you send files like movies, text, pdf, audio, and pictures between a Mac and iOS device easily. To use the file transfer feature:
Drag a file from the Mac into a Messages chat window
Click send from the Mac
The user on an iPhone, iPad, or iPod touch with iMessages will receive the file in a familiar fashion to iChat file transfers
The iOS user is then able to open the file, be it an mp3, video, picture, whatever. This is a great feature that is easy to use and welcome for all Mac and iOS users.
Use iMessage With Unsupported File Types & As SFTP Alternative
Now, what is less known is that you can technically transfer just about any file type between the two OS's using the same technique, even obscure file formats. This means iMessage can be used as a simple method of moving any files to an iOS device without using SSH and SFTP, although the destination folder of these files creates some limitations.
Files sent to and received by the iOS device end up at the following location:
/var/mobile/Library/SMS/
This is where the limitation comes in. Accessing that directory isn't possible without a jailbreak and an app like iFile to navigate around the hidden iOS file system, and moving files around within the iOS file system after the fact requires an SSH client like Prompt, in addition to some knowledge of the command line. This makes it a useful feature for advanced users who are comfortable with jailbreaking, but for the average person sending anything other than standard media files and documents isn't too useful.
A lingering question is now if Apple will maintain support for any file type. Keep in mind that while this is active in the Messages for Mac beta, it's possible the support for additional file formats will be abandoned in the final shipped release, which is due out with OS X Mountain Lion this summer. Let's hope it stays.
Related articles: