Delete Site-Specific Cookies in Safari on iOS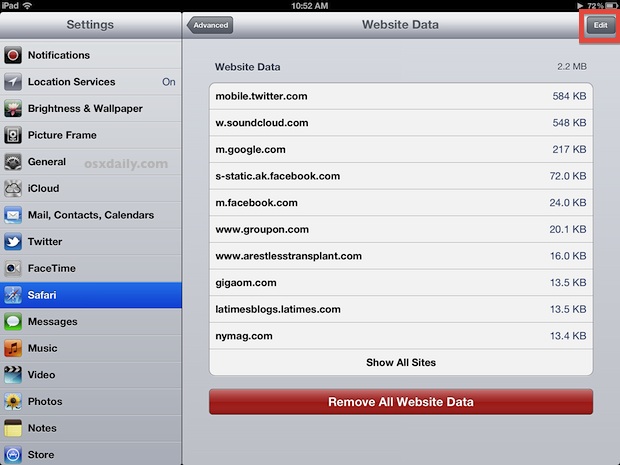 You can delete specific cookies from Safari in iOS fairly easily, though the setting to do so is buried a bit. Here is exactly how to remove individual site cookies from an iPhone, iPad, or iPod touch:
Open "Settings" and tap on "Safari"
Scroll to the bottom and tap on "Advanced"
Tap "Website Data"
Tap "Edit" in the upper right corner, then tap the red (-) minus symbol next to the individual website you wish to remove cookies from followed by the "Delete" button
Exit out of Settings when finished, you can refresh the site in question within Safari to verify the removal worked.
You can also choose to remove all website data and cookies from that settings panel, as indicated by the humungous red button at the bottom of the settings window. If you're looking to remove all site data, there is a faster way to clear all cookies, history, and cache however.
Why might you want to delete an individual sites cookie? First and foremost are privacy purposes and to remove personal data from a website, but a lot of sites also use cookies to track your behavior and then adjust things based on what you do. For example, if you are booking hotels or flights from an iPad or iPhone, many travel sites use cookies to track your searches and adjust pricing based on the frequency of searches and perceived demand. In that case, deleting cookies specific to the site can mean the difference in hundreds of dollars for final bookings.
Related articles: