Make a Screen Saver Out of Your Own Images in Mac OS X
You can make a nice screensaver out of a collection of your own images within Mac OS X very easily, here's the basics:
Create a new folder, let's call it 'My ScreenSaver'
Gather images from your photo albums and drop them into 'My Screensaver' folder
Launch System Preferences
Click on Desktop & Screensaver
Click the Screensaver tab
Select the + button near the bottom of the screensaver list (Note: OS X Mountain Lion and later will use the "Source" sub menu" instead)
Select "Add Folder of Pictures"
Navigate to the "My ScreenSaver" pictures folder you created earlier
That's it!
You can now select various effects for the screensaver by clicking the tiled icons and Options, to determine how the images are displayed, if they're faded in and out, cropped, etc. Newer versions of OS X have separated a wide variety of new options into completely different screen savers, choosing a source folder will stay consistent across choice as you test the slideshow effect.
From OS X Mountain Lion onward, you have even more display options to choose from, as you can turn any of the built-in "Slideshow" screen savers into something featuring your own pictures just by clicking the "Source" menu and selecting a folder, as shown in this screenshot:
This process of making your own screensaver is even easier if you use iPhoto, because iPhoto automatically hooks up to the ScreenSaver preference pane, you simply select the iPhoto album you want displayed and the rest is the same.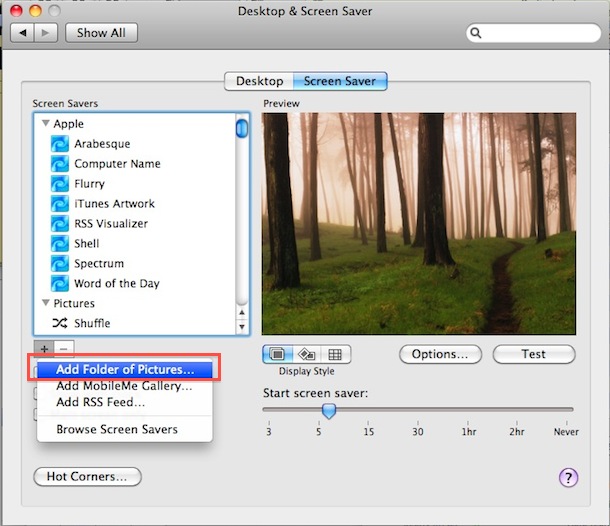 Updated: 12/12/2012