Download Web & Flash Videos to a Mac
If you want to save and watch many web-based movies directly from your Mac for offline viewing try this out. Robert Warner writes in with a handy trick to download the videos directly to your Mac using only Safari, without installing any additional software. This should works to download any web video, but be sure to only use this on video content that speicifcally allows such downloading.
Here's the steps he sent us:
* Launch an independent Safari window with the video you want to download
* Press Command+Option+A, or go to Windows > Activity to bring up the 'Activity Monitor' window in Safari
* Look through the activity for "Video Name", look for the largest file size and double click to download it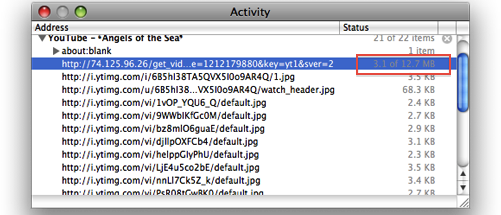 * Find the file that you downloaded (usually named get_video or videoplayback.flv) in the Finder and edit the name so that it has a .flv file extension
* Confirm the file extension change, and now you can watch the downloaded movie in VLC or Perian equipped QuickTime
Robert also tells us that this should work in the Windows version of Safari but I can't confirm that. Thanks for the tip Robert!
If you want to download songs tracks from video there's an easy way to do just that too, using an app that extracts the audio track from the video file.
Related articles: