How to Change a Mac Displays Contrast with Keystrokes & Software
It's possible to adjust the display contrast at a software level in Mac OS X, which can have very dramatic effects, either good or bad, depending on your needs. Most Mac users don't know this and many may not find it helpful, but used appropriately it can be a helpful Accessibility adjustment for many with vision difficulties.
We'll show you how to change the display contrast with keystrokes, and with a preference panel option in OS X. To be clear, this is a software change only, it does not impact screen shots, it does not impact the actual display contrast like adjusting manual hardware buttons would, it does not adjust gamma like calibrating a display would, and it does not change user interface elements like some other toggles do. This is basically artificially enhanced contrast at the OS level.
Keystrokes for Changing Display Contrast in OS X
Decrease display contrast: Command+Option+Control+,
Increase display contrast: Command+Option+Control+.
The keyboard shortcuts work in all versions of OS X up until Yosemite, where Contrast took a different turn. Nonetheless it can now be changed through a preference panel.
Adjusting Display Contrast at a Software Level in Preferences
Open System Preferences, go to Accessibility and choose "Displays"
Adjust the slider for Display Contrast for immediate effect, which can be quite dramatic.
The slider contrast setting also exists in OS X Mavericks:
The default is set to the lowest level of contrast, and increases will generally wash out screen colors. The ability to change your displays contrast is actually part of the Universal Access utility in Mac OS X and is intended to aid those who are visually impaired in seeing things on the screen.
The screenshot below shows the Chrome browser looking at OS X Daily on the highest contrast, the effect is very stark and very high contrast: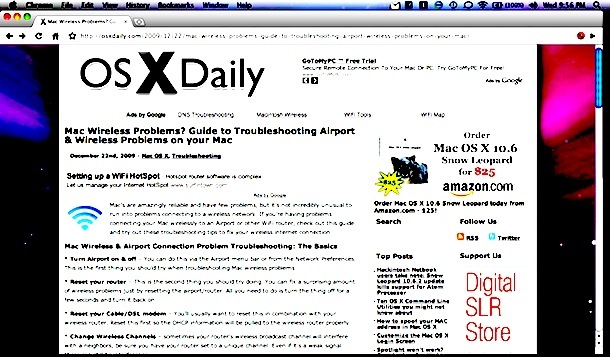 To be clear, this is actually adjusting the rendered contrast of how things look displayed on screen, not the operating system elements like the Increase Contrast interface toggle does in OS X Yosemite. You may be looking to do the latter, depending on your goal.
This is something I never really paid much attention to, as being the software side of my displays contrast is very different than the monitors contrast or interface contrast, but it's good to know this is something that you can change by using simple keyboard shortcuts.