Open & Save PDF's to iBooks on iPhone and iPad
You can easily save or open any PDF into the iBooks application on either an iPhone or iPad.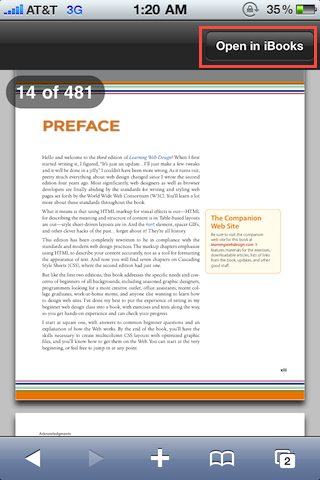 First you need to open the PDF on your iPhone/iPad, this can be done through eMail or Safari
Once the PDF is open, click on the "Open in iBooks" button in the upper right corner
Anytime you open a PDF with iBooks like this, it stores a copy in your iBooks library for accessing later
Now you can access that PDF from iBooks, anytime
This is really nice because it lets you access those PDF files on your iOS device later even when you are not online, and you can skim through it like any other iBook within the app. You can also sync these PDF's as books within iTunes too for easy backing up.
This works on any iPad, iPhone, or iPod touch running the iBooks application. This really is the easiest way to get a PDF file onto your iPad or iPhone for use in iBooks.
Thanks to reader Dustin L for sending in this tip and screenshot!
Related articles: