Reset a Mac OS X 10.7 Lion Password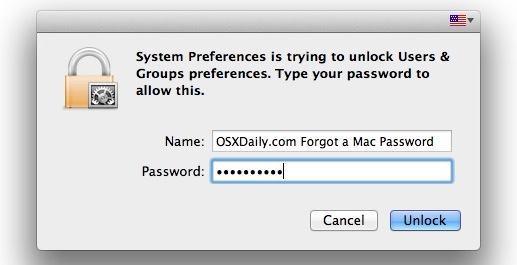 One of several changes to Mac OS X Lion is how resetting passwords is handled, previous versions of Mac OS X would have a password reset tool easily accessible from the Utilities menu but that isn't available anymore. There are still multiple approaches to resetting a lost user password in OS X 10.7, this walkthrough will cover two different methods, the first is unique to Lion and the second is a traditional workaround to reset a password.
Method 1 – Reset a Lost Mac OS X Lion Password
You have to boot from a Lion Recovery drive, this can either be a recovery disk made with the Lion Disk Maker tool, or just by booting from the built-in Lion Recovery HD partition.
Hold "Option" at boot and select the "Recovery" disk at the boot menu
Wait for "Mac OS X Utilities" menu to appear, indicating that you are booted into recovery mode
Click on the "Utilities" menu and select "Terminal"

Type the following:

resetpassword

Confirm the user account and then the password change and reboot Mac OS X 10.7 as usual with your new password
This replaces the "Reset Password" menu item that used to be in place prior to OS X 10.7, which was one of two original methods of resetting a Mac OS X 10.6 or prior password. Why the change to the Terminal method? Probably for increased security now that recovery partitions are standard with Lion.
The above method is by far the easiest, but if it's unavailable for some reason, you can choose another method:

Method 2 – Delete AppleSetupDone and Create a New Administrative Account
Mac OS X 10.7 does share a more untraditional approach to resetting a password as past versions of OS X. In this case, you can still delete the AppleSetup file which forces the "Welcome to Mac OS X" setup assistant to run again, which allows you to create an administrative account. You can then login to that new administrative account and reset your original account password.
From the Recovery Drive's Terminal, type:
rm /var/db/.AppleSetupDone
Then reboot either through the menu item or by typing 'reboot' into the command line.
Follow the setup procedure as usual, create the new administrative account, and wait for Mac OS X to boot as usual into the new user account. You won't see any of your familiar files or settings yet, and this is normal, because you have to reset the original password. Here's how:
Open "System Preferences" and click on "Users & Groups"
Click on the lock icon in the lower left corner and authenticate, allowing you to make changes to user accounts
Select your original user account from the left side Users list, and then click on the "Reset Password" button on the right

Enter and confirm the new password
Close out System Preferences and reboot
You can now login to the original user account with the new password you just set. Once logged into your original administrative account you can then return to User & Groups and delete the temporary admin account you created.
These two methods should work when booting a USB Lion install drive too, but it's quicker to use the Recovery disk that is already active on OS X Lion installations.
Related articles: