Watch System Activity and CPU Usage from the Mac OS X Dock

Activity Monitor can be used for more than just managing tasks and killing processes, it can also turn the Mac OS X Dock into a live system monitor where you can keep an eye on processor usage, CPU history, network activity, disk activity, or RAM use.
Launch Activity Monitor, found in /Applications/Utilities/
Right-click on the Dock icon and scroll up to the "Dock Icon" submenu and select one of five available options:
Show CPU Usage – this is a live gauge of processor activity on the Mac, each CPU core is shown as a separate bar, this is probably the most useful of the five choices (shown up top)
Show CPU History – this shows processor load and use graphed over time, each CPU core is shown separately
Show Network Usage – displays a graph of incoming (green) and outgoing (red) network traffic, this can be helpful if you're on a sketchy internet connection or are carefully conserving bandwidth
Show Disk Activity – shows a live graph of disk reads (green) and writes (red) in the same format as Network Usage
Show Memory Usage – displays a pie chart of current RAM usage and allocation on the Mac, green is free memory, red is wired, yellow is active, and blue is inactive memory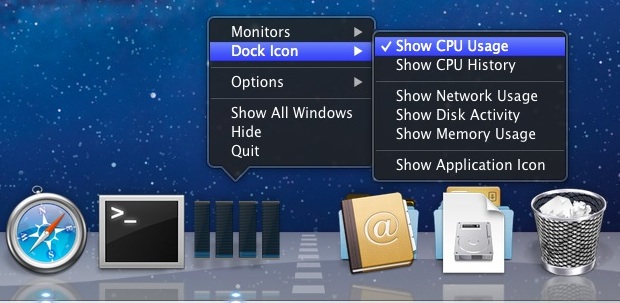 If you find yourself using this often, you may want to pin Activity Monitor to the Dock by right-clicking and choosing "Keep in Dock" from the Options submenu.
Here is what the memory usage pie chart looks like:


And here is what Disk Activity and Network Activity look like:


If the Dock isn't your thing, the iStat Menu bar item offers similar features in the menu bar.
Thanks to Roman for the tip idea
Related articles: