Encrypt Folders with Password Protection in OS X the Easy Way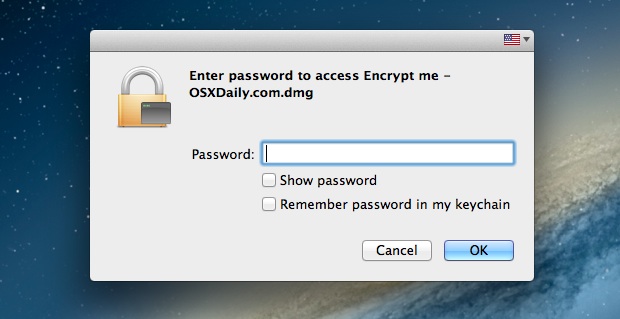 There is a new means of password protecting folders and sensitive files introduced in OS X Mountain Lion that lets you create a new encrypted disk image directly from a specified folder. Though you can still create a blank disk image and fill it as you see fit, this new option in Disk Utility is easier to use.
Note: This will only encrypt and password protect the folder specified, if you are looking for full disk encryption you would want to enable FileVault instead.
Open Disk Utility, found in /Applications/Utilities/
Pull down the "File" menu and select "New" and then "Disk Image from Folder"

Navigate to the folder you wish to turn into an encrypted drive and click "Image"
Set the Image Format to "read/write" and the Encryption to "128-bit AES"

Choose a strong password (or generate one by pressing the black key icon) and – this is important – uncheck the box saying "Remember password in my keychain", then click OK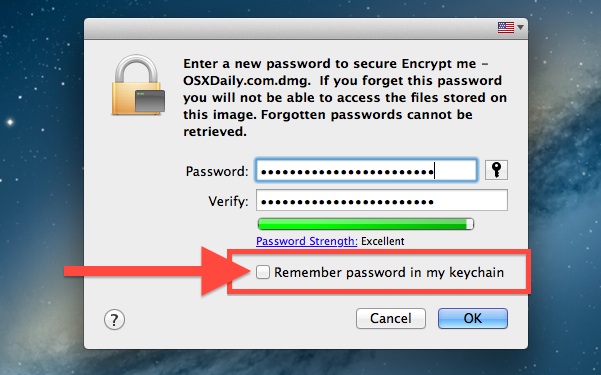 If you do not intend on using the encrypted image as a working folder that you can add and remove documents from, you can choose an Image Format other than "read/write".
An encrypted disk image will be created based on the folder you specified, it may take a while if the folder is large or your Mac is slow. Afterwards, locate the encrypted dmg file and try to mount it in the Finder, you will need the password to access the files. Just as when creating the disk image password, always uncheck the box saying "Remember password in my keychain" or else you will store the password and lose the security benefit of the encrypted image since anyone with access to your user account could open it.
You now have a readable and writable encrypted disk image. You can treat it as a folder and copy, delete, or move files from the image, and anything brought into the image while mounted will become encrypted. When you are finished working with the folder and want it password protected again, simply unmount the disk image. Regaining access again will require the password before it can be mounted and available.
The short video below demonstrates the entire process, in less than a minute you can encrypt a folder with password protection and mount it for access.
Thanks to George for the tip
Related articles: