How to Delete Pages in a PDF Document with Preview on Mac OS X
You can delete specific pages from a PDF file with the built-in Mac Preview app, available in all versions of OS X. This is really useful for paring down large PDF documents if you only need a few select pages, and learning how to delete specific pages from PDF files is bound to make any student or researchers life easier when emailing or printing documents.

Deleting a page (or multiple pages) from PDF files is remarkably simple from the Mac, you can then save the modified PDF, or export and create a new PDF file with the pages removed.
Here's how to do this:
Open the PDF file into Preview app on Mac OS X
Be sure that Thumbnails View is enabled so that you can see all pages in the PDF file:

Select / highlight the page you want to delete from the page thumbnails list
Now hit the DELETE key to delete the selected page(s)
Repeat as necessary, then save the file or export the changes with File menu > Export as PDF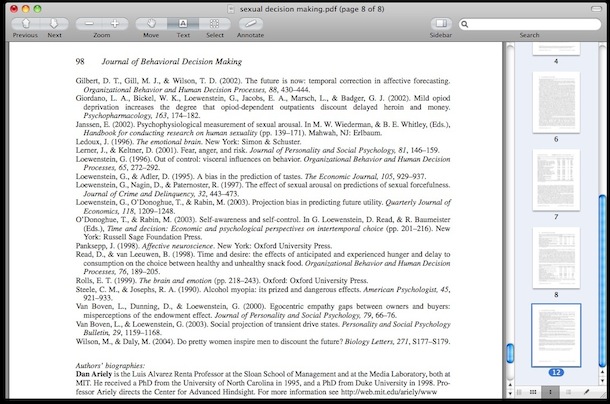 In the above screenshot example, I have deleted multiple unnecessary pages within a research PDF document before I printed it, my school charges for each page so reducing the printed page count is particularly valuable.
You'll notice that the PDF page numbers don't change though, which is both good in that you can quickly identify which pages are missing, and bad if you are hoping the pages would reorder themselves after others were deleted.