How to Set a Manual IP Address in Mac OS X
There are times when a user will need to to manually set an IP address in Mac OS X to one which will be compatible with a joined network, either wi-fi or ethernet.
Here will cover how to change a Mac IP address to a manual setting, and also how to pick an IP address which will not be conflicting with another machine on the same network.
Setting a Manual IP Address on Mac
Launch 'System Preferences' from the Apple menu  (or Spotlight)
Click on the "Network" icon
In the lower right, click on the 'Advanced' button
In the pulldown menu next to "Configure IPv4" select "Manually" (or DHCP with manual address, if that's what you need)
Fill in the IP address, subnet mask, and router, as appropriate to the network you are accessing
Note: If you do not have these details necessary to be compatible with a specific network, ask the network administrator for the proper assigned IP, subnet, and router to use
Tip: Picking your own manual IP address? The key is to pick a manual IP address which does not conflict with existing IP addresses on the joined network. For example, if the network router IP is "192.168.1.1" and the network has 5 computers in total, manually pick an IP far outside the range of those potential computers (which are likely to be 192.168.1.1 through 192.168.1.6, and so forth, as IPs are typically assigned in a sequential order), so a potential IP address could be "192.168.1.75" or some other number which will not conflict or match an existing network resource
Click 'OK'
Click 'Apply' to set the change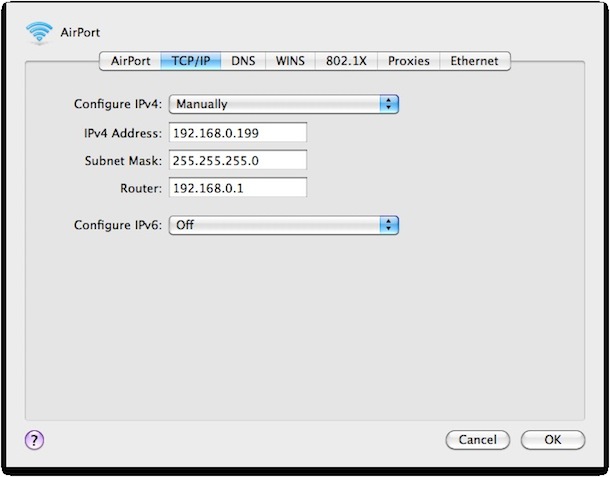 That's it! The settings take effect and you won't need to reboot. Not too hard right?
Computer users can sometimes be funny, my cousin called me frantically asking me how to manually set his IP address, apparently due to the current network conditions at his lab this was a requirement to be able to have internet access. The guy is brilliant, he's studying for his PhD but he just automatically assumed that setting a manual IP address was complicated, after I walked him through this, he laughed. Don't be afraid to get your hands a little dirty! Things on a Mac are almost always easier than you think.
Let us know your experiences and thoughts with setting a manual IP address in macOS, and yes this works the same on every Mac OS X and macOS version ever released (so far anyway).