Move the iTunes Library
Moving your iTunes music library to another machine is really easy to do since Apple has made iTunes store all of your music in one central location. Unless you have changed it yourself to something else, iTunes music is by default stored in your home directory at ~/Music/iTunes/
Moving your iTunes Music Library
Using this method you can move your entire iTunes Music library to anywhere, including an external hard drive.
* The first thing you'll want to do is locate your iTunes music library, as mentioned earlier this is located in your home directories Music folder, at ~/Music/iTunes
* Next, copy that entire ~/Music/iTunes folder to the new desired location. This may take a while depending on how large your music library is.
* Launch iTunes, enter the Preferences by going through the iTunes menu and selecting 'Preferences'
* Click the 'Advanced' tab and you'll see the location of your iTunes music library like the screenshot below. Click the 'Change' button and navigate to the new iTunes music library location (where you copied the ~/Music/iTunes/ folder too)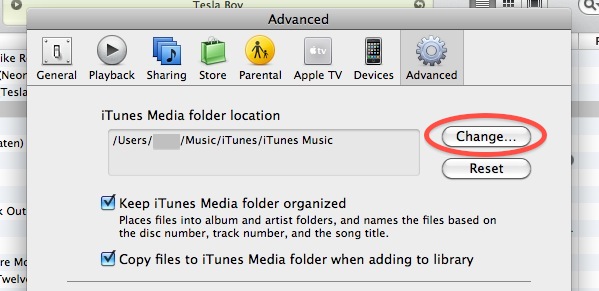 * Now click 'OK' and your iTunes library is set to it's new location!
How do you move the iTunes library to a new Mac so that it is the main machine for my iPod/iPhone?
The iTunes music directory stores all of your iPhone/iPod ownership data, so moving this directory also moves ownership in that sense. This is achieved in practically the exact same way as the method above, you just need to connect the two Mac's together either through a network or through something like firewire target disk mode (obviously this only works on Mac's with firewire support). If you're lucky enough to have both of your Mac's with Firewire support, then hook a firewire cable between the two, and reboot one of them holding down T to place it into Target Disk Mode. When the machine boots it will act as an external hard disk on the other Mac, so you can easily and very quickly copy the contents of your ~/Music/ folder to the desired location.
Note that the above methods work all more or less the same with Windows PC's as well, except that the Music/iTunes directory is usually located in 'My Documents' but you can transfer it to a Mac (or vice versa) or PC just the same.
Related articles: