Convert video to iPad, iPod, and iPhone compatible formats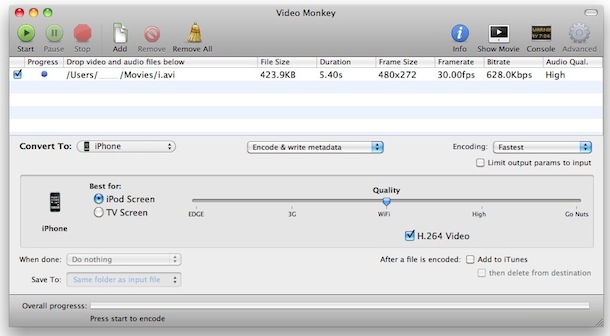 VideoMonkey is a free tool that lets you convert various video types to iPhone, iPad, iPod, and AppleTV compatible formats. It's fast and easy to use, if you want to convert a video for use on your Apple device it's this simple:
* Drag and drop the file into VideoMonkey
* Select the type of video you want it converted to (All Apple Devices works universally)
* Adjust the quality and compression options, note that the file size changes on the fly
* Click Start and wait, the time it takes to convert the video varies
* When the video is done converting, you can freely copy it over to your iPad, iPhone, whatever
Developer home
Download Videomonkey
In my tests it worked flawlessly with AVI, MPG, and MOV files and was pretty quick. Did I mention that it's free?