Convert Images in Mac OS X: JPG to GIF, PSD to JPG, GIF to JPG, BMP to JPG, PNG to PDF, and more
You can convert many different image file formats in Mac OS X for free using the included Preview application, there's no need to download additional tools or do anything overly complex.
As of any somewhat modern version of Mac OS X, the Mac Preview app supports the following file types and will convert between any of them: GIF, ICNS, JPEG, JPG, JPEG-2000, Microsoft BMP, Microsoft Icon, OpenEXR, PDF, Photoshop (PSD), PICT, PNG, SGI, TGA, TIFF. Some of those image formats will be hidden from your default view when saving, requiring the usage of the "Option" key when saving to reveal them. In any event, converting from one image type to another is simple.
How to Convert Image File Formats in Mac OS X with Preview
Image conversion with Preview is a simple process:
Open the image file you want converted within Preview
From the File menu navigate down to "Save As" (or choose Export)
Select the new file format you want the image converted to from the "Format" drop down list
Optionally: change the save destination, or pick somewhere easy to find like the Desktop for the newly converted image file to appear
Click "Save" to save and convert the image to the new format
You can repeat this process with other image files as necessary.
The above process will hold true regardless of the origin images file format and the desired file format.
Preview.app supports a wide range of image conversions: GIF to JPG, JPG to GIF, PSD to JPG, JPG to PDF, JPG to BMP, BMP to JPG, BMP to GIF, PNG to GIF, JPG to PNG, TIFF to JPG, and just about every other variation between these and more. As long as the image format is supported by Preview, it will convert it to any other supported file format.
Converting Images in MacOS Mojave, High Sierra, Sierra, Mac OS X Lion, Mountain Lion, Mavericks, Yosemite onward
Preview still maintains the ability to convert pictures, but macOS Mojave, Catalina, High Sierra, El Capitan, Sierra, OS X Lion, Mountain Lion, OS X Mavericks, and OS X Yosemite, are slightly different in a few ways regarding how this procedure is handled:
Open the image to convert into Preview as usual
From the File menu, you will notice "Save As" is hidden by default, so you can choose "Export" instead
Select the file format to change the image file to, to see different image file formats in Preview, hold the Option key when selecting the Format menu and you will see additional options for file type
Save the file as usual to discover the newly converted version in the destination you chose
It's a good idea to save your files to somewhere easy to find. Easy as pie. Happy converting!
One thing to keep in mind is that if you're going to be performing an image file conversion of many files to the same file type, let's say a large group of PNG files that all need to become JPEG, you can perform a batch image format conversion as described here, which is a much faster and more efficient way to handle a large selection of images.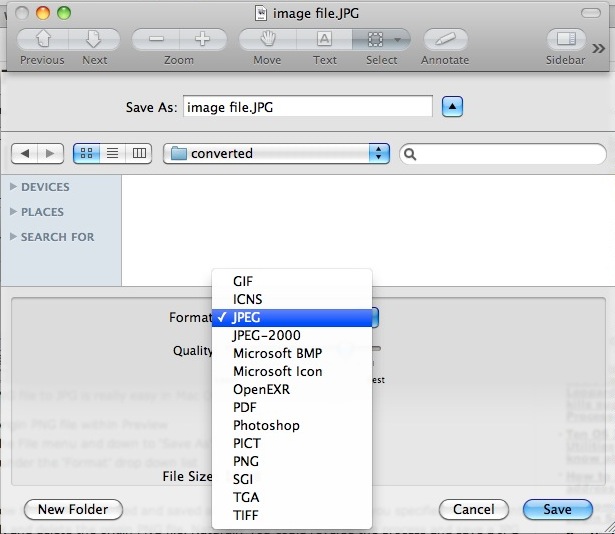 Whether you're converting a single image file or multiple, the feature exists in all versions of Mac OS X, the only difference other than superficial appearance of the Preview app itself, is whether you will be using the "Export" feature or the "Save As" feature. Modern versions of Mac OS X will have both, which means you can pick either to convert the image to a new format as desired.