How to enable the Firewall in Mac OS X
If you want to beef up the security on your Mac, you can try enabling the built-in firewall.
Enabling the Firewall in Mac OS X 10.6 Snow Leopard
* Open "System Preferences" from the Apple menu
* Click on the 'Security' icon
* Click on the 'Firewall' tab
* In the corner of this window, you'll see a lock icon, click on that and enter the administrator password
* Now click on the 'Start' button to activate the firewall
Yes, it's that simple.
If you want to allow certain ports, applications, or network connections, you can enter the 'Advanced' tab and adjust the settings as necessary. The Mac OS X firewall is quite secure by default and will block nearly all incoming connections (again, unless specified otherwise). It's my opinion that if you're behind a router with it's own firewall, and on a trusted network, you probably don't need to use the Mac firewall at all. For small home and school networks you should be fine, but for larger, untrusted, or exposed networks, using the firewall may be a prudent idea, even if the likelihood of an attack on your Mac is extremely low in comparison to a Windows machine.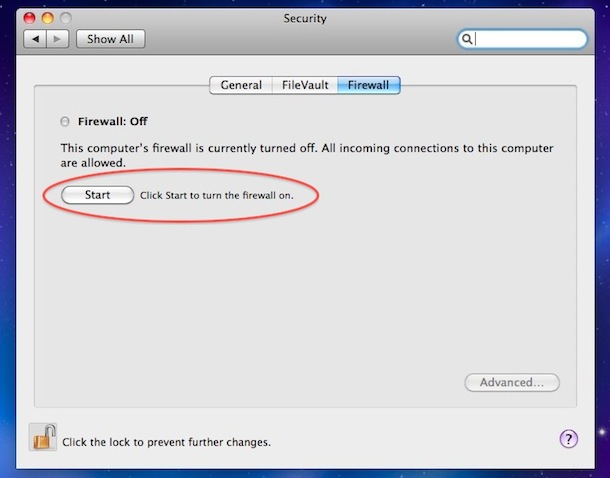 It's worth mentioning that since Mac OS X 10.6, the Firewall service has been placed under the "Security" systems preference as opposed to 'Sharing' as it was in prior versions of Mac OS X.
Related articles: