Secure an iPad or iPhone with a Stronger Passcode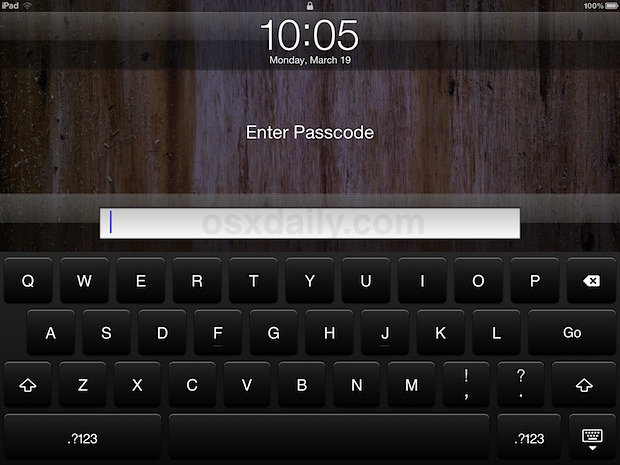 The default passcode for iPad and iPhone uses a fairly simple four digit numerical password, these are fairly easy to guess because statistically many people use common passwords or some variation of a simple theme, like a repetition, countdown, or birth year.
An easy way to add more security to an iOS device is to disable simple passcodes and utilize the full keyboard, here's how to enable this setting.
Tap on "Settings" and tap "General"
Tap on "Passcode Lock" and enter the current passcode
Next to "Simple Passcode" slide the ON button so that it's off
Enter the old simple 4 digit passcode, and then enter the new password based on the full keyboard and special characters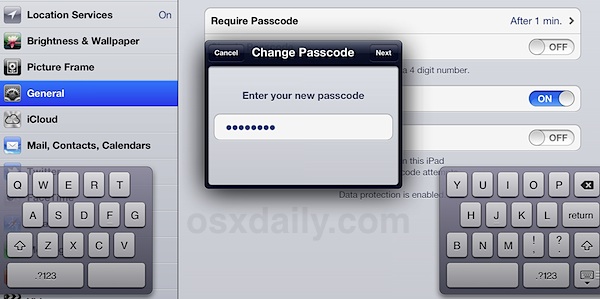 You can now use a combination of letters, numbers, and special characters, though using the latter can be difficult to remember since their placement is different on the iOS keyboard than a standard QWERTY layout.
Don't set something so complicated that you can't remember it yourself, though it isn't too difficult to reset if you need to, assuming you have access to a computer.
For those especially concerned with security, you can also set the iPhone or iPad to "self destruct" and automatically erase all data after 10 failed password attempts. This is also a fairly good anti-theft countermeasure, just make sure you don't forget it yourself or you could accidentally wipe your device.
Related articles: