The best Visio alternative for Mac is OmniGraffle
"I use Visio frequently at work in an all Windows environment, but I really don't want to have to install Parallels or Boot Camp on my new MacBook just to run Visio. Is there some kind of alternative like Visio for Mac OS X?"
This is a great question, and I think you'll be quite pleased to hear there's an excellent Visio alternative that runs natively in Mac OS X, it's called OmniGraffle. Omnigraffle is a excellent application that lets you quickly draw beautiful charts and diagrams that are perfect for presentations, project specs, website mockups, page layouts, documentation, or any other visual communication need.

If you need a Visio alternative in Mac OS X, I'd highly recommend Omnigraffle, it's a fantastic program. The OmniGraffle interface is very intuitive and it's actually much easier to use than Visio in Windows, yet somehow it's just as powerful if not more so. If you're doing professional quality work and need seamless Visio interaction, you're best bet is to go with the Professional version.
OmniGraffle is offered in two versions, both are available for immediate download on the Mac App Store:
Check out the 5 star ratings and reviews on both the Mac App Store and Amazon
.
Speaking of Amazon, you can buy Omnigraffle 5 Professional from Amazon
and sometimes get a discount from the Mac App Store price, the downside is that you have to wait for the app to ship to you.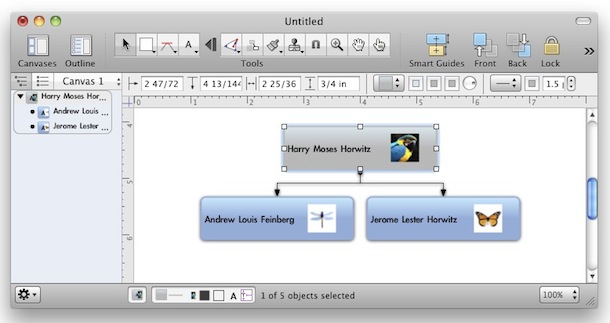 Dare I say that OmniGraffle is better than Visio for the Mac? Try it out yourself, it rocks.