Wi-Fi Scanner Tool is New in Mac OS X Mountain Lion, Here's How to Use it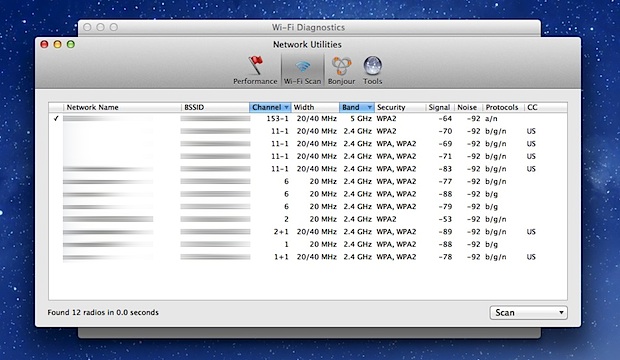 The already powerful Wi-Fi Diagnostics Tool in Mac OS X got a redesign in Mountain Lion and with it came some new features that make it better than ever. One of the best new additions is the built-in Wi-Fi scanner tool, which is a full-featured wifi stumbler to find and discover nearby Wi-Fi networks – even those that don't broadcast their network names.
This is really an advanced feature that has a wide variety of potential uses beyond just locating access points, most users would be best off just using the Wi-Fi menu to find available wireless networks to join. For those that want a wireless stumbler, here's how to find and use it.
First you'll want to make the Wi-Fi Diagnostics app readily available by bringing it to LaunchPad or the Dock, to do that:
From any Finder window, hit Command+Shift+G and enter the path: /System/Library/CoreServices/
Locate "Wi-Fi Diagnostics" and drag and drop it into Launchpad or the OS X Dock for easy access
Now that you have the Wifi app in an easy to find location:
Launch Wi-Fi Diagnostics and ignore the frontmost menu, instead hit Command+N to summon the new "Network Utilities" window (this is also where the wireless signal strength measurement tool is located now)
Click the "Wi-Fi Scan" tab to get started with the wireless stumbler tool
Under the Wi-Fi Scan tool, you will see all available network names and their respective BSSID, channel, band, protocol (wireless n, g, b, etc), security type, their signal strength, and the noise level of the signal.
The tool defaults to scanning once and displaying the found information, but you can turn on Active Scan or Passive Scan mode to constantly search for new networks by clicking on the "Scan" pulldown menu in the lower right corner.
There are plenty of potential uses for this utility and the wireless stumbler, whether it's optimizing networks, reducing interference and noise, or discovering those around you, but the wifi diagnostics app also includes many powerful features that allow you to capture network traffic, be it data that is sent from the computer in use or even all nearby wireless networks. Ultimately those latter functions and their uses are far beyond the scope of this article, but previously Mac users had to use third party apps like Kismet or boot from a separate Linux installation to access advanced network capturing abilities.
Related articles: