TurboTax does not work with Google Chrome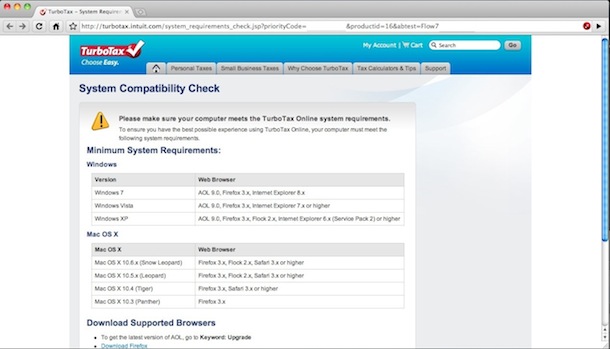 It's tax time in the USA, which means everyone is either going to be happy with a refund or sad when they owe. If you want to file your taxes online and you use Google Chrome, be sure to skip TurboTax
though, which does not support the browser.
Adding insult to injury is the supported browser list: TurboTax supports IE6, but doesn't support Chrome? WTF? Google Chrome is my favorite web browser by far, so I was pretty annoyed to find this out. I imagine this is just a simple user agent detection, since other WebKit browsers are supported (Safari), but what a boneheaded maneuver by TurboTax.
FYI: this effects all OS's using the Chrome browser, and has been tested to not work in Windows, Linux, and Mac OS X. Grr.
Related articles: