How to Boot into OS X Lion's Recovery HD Partition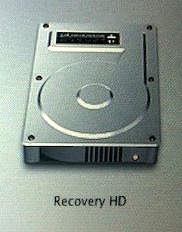 All Macs with OS X Lion have a bootable Recovery partition that can be accessed in case of system problems, allowing you to troubleshoot, restore from Time Machine backups, and even reinstall Mac OS X.
Hold down Command+R keys during boot to access the Recovery HD partition.
You'll know you're in recovery mode because the standard desktop won't be displayed, replaced with a limited Mac OS X Utilities window and a simple Mac OS X menu bar. Here you can use Disk Utility, Time Machine, and restore the OS.
From the Utilities menu you can access Network Utility, use the Firmware Password Utility, and launch the Terminal, which lets you repair user home permissions, launch other apps, and perform other diagnostic tests.

To reinstall Mac OS X Lion from the Recovery partition, you will need an active internet connection, although this isn't necessary if you booted with a full Lion USB installer rather than the built-in Recovery HD partition or a disk made with the Lion Recovery Assistant tool.
Note that if you deleted the Recovery HD partition, you can not access these features.
Thanks for the tip idea @oldrobots
Related articles: